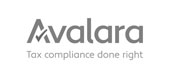 iBizSoft has joined the Avalara Partner Network to provide you with a portfolio of Sales Tax solutions. Avalara is a leading cloud-based software platform that delivers a broad array of compliance solutions related to sales tax and other transactional taxes, such as VAT. Avalara easily integrates with leading ERP and ecommerce software systems that serve millions of businesses worldwide.
Businesses of all sizes face the burden of accurately calculating, collecting, and remitting transactional taxes. Before Avalara came around, most were forced to manage this burden with cumbersome and inaccurate manual processes or expensive enterprise hardware and software systems. Avalara changed all that by pioneering a cloud-based software platform that provides an end- to-end suite of sales and other transactional tax compliance solutions.
Since iBizSoft is a Avalara Strategic Partner, you can take advantage on your next Sales Tax solution from Avalara.