Comparison of Fusion Financials AP/AR modules with Oracle R12 Financials AP/AR modules
Oracle Fusion Payments is a product in Oracle Fusion Applications, which serves as a disbursement and funds capture engine for other Oracle Fusion Applications. As the central payment engine, Payments processes:
• Transactions, such as invoice payments from Oracle Fusion Payables.
• Settlements against credit cards and bank accounts from Oracle Fusion Receivables.
Payments provides the infrastructure needed to connect these applications, and others, with payment systems and financial institutions. The centralization of payment processing in Payments offers many benefits to companies. They can efficiently centralize the payment process across multiple business units, currencies, and geographical regions.
The Payments Disbursements module includes selected disbursement setups of Payments. Disbursement is the process of paying funds owed by companies to creditors, such as suppliers. A payment can take:
• An electronic form, such as EFT or wire.
• A printed form, such as a check.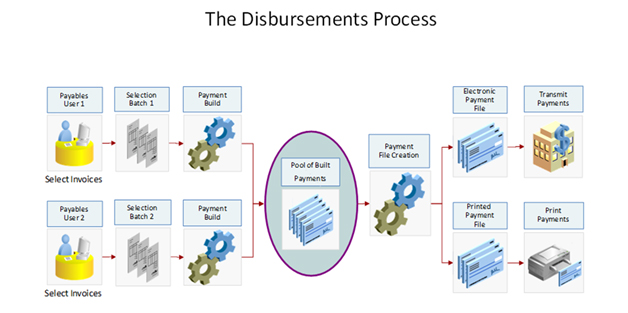 Oracle Fusion Receivables plays a central role in the Order to Cash process. Receivables can be used to create invoices and other transactions, and to manage the entire cycle of billing customers and processing customer payments.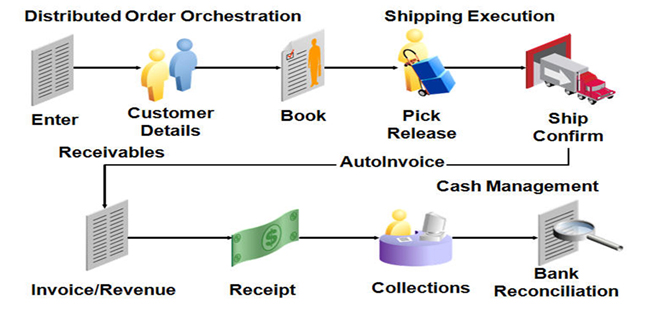 The Order to Cash flow begins with the ordering process. The ordering process leads to the shipping of goods, followed by invoicing the customer and concluding with the receipt of payment and reconciling the bank statement.
The order to cash flow includes these activities:
1. Order: The order is entered with information that includes the customer, ship-to, bill-to, payment terms, order type, price list, unit price, and warehouse. Then the order is booked and the order proceeds through the workflow process. If the order is for a shipping item and the quantities are available, the process includes shipping execution.
2. Shipping: The order is pick released, which generates the move order. Once the item is brought from subinventory into the staging area, it is ready to be placed on a shipping vehicle. After this, the ship confirm process is run.
3. Billing: AutoInvoice imports invoices, credit memos, and on-account credits from other systems into Oracle Fusion Receivables. In Receivables, invoices are printed and sent to the customer.
4. Revenue: Revenue recognition manages revenue processing.
5. Receipt: When payment is received, a receipt is generated and posted in the Receivables subledger.
6. Collections: When necessary, Advanced Collections manages the collection efforts until payment is received.
7. Reconciliation: In Cash Management, the system pulls information from posted receipts and matches this information to the bank statements for bank reconciliation. In Receivables, users can use the Receivables to General Ledger Reconciliation Report to reconcile receivables transactions to the general ledger.
Key advantages of Fusion AP/AR modules over R12 Financials AP/AR modules
Payables Invoices : Users can view supplier holds , identify previously matched lines to prevent overbilling & errors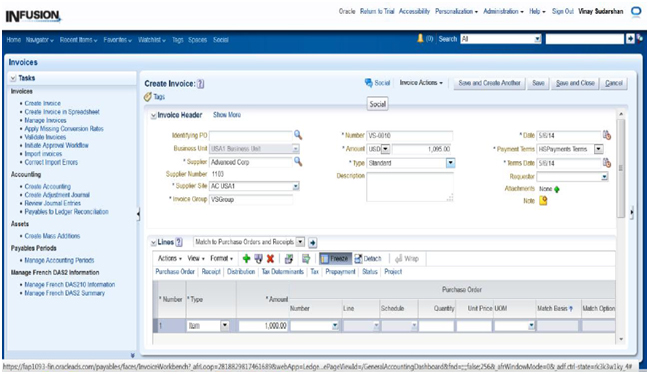 Receivables Receipts : Users can intelligently apply receipts with rules-driven recommendations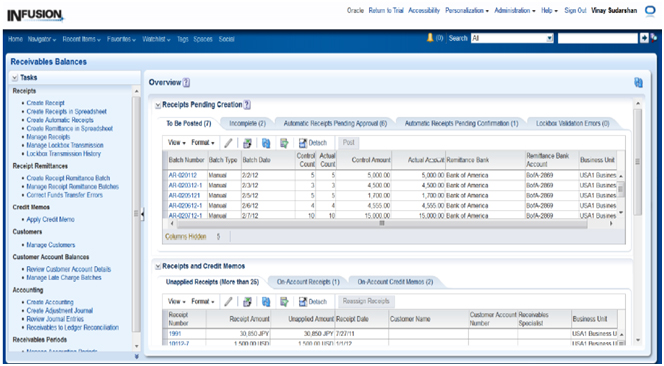 Self service and interactive reporting support live drilldowns to source transactions (Even to transactions from non-Fusion ERPs)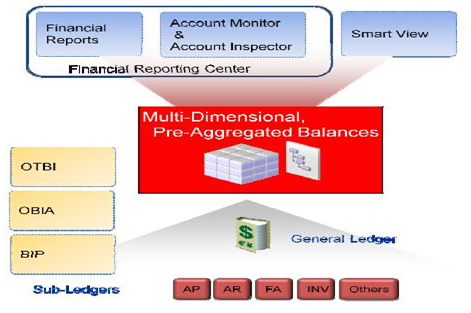 OTBI: Oracle Transactional Business Intelligence (used for ad-hoc and transactional data analysis)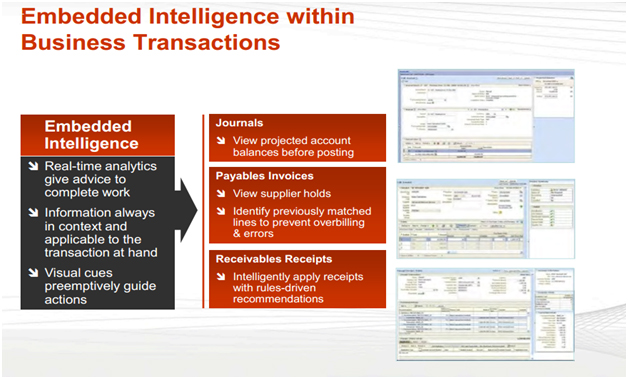 OBIA: Oracle Business Intelligence Applications (Used for historic and trend analysis)
BIP: Business Intelligence Publisher (Standard reporting with variety of formats)
Account Monitor, Account Inspector, Smart View (Excel based): Used for ad-hoc analysis and inquiry on financial data
Role based structure for better compliance and security across the organization: Based on the common business practices, various roles have been defined in the system and each role will have certain permission and privilege to perform certain activities. Based on the role user plays in the business, appropriate system roles can be assigned. Moreover, apart from hundreds of seeded roles, flexibility to configure them as per user's business needs is still there.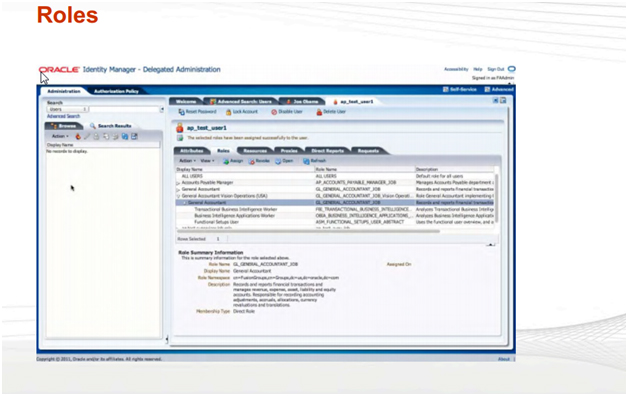 Co-Existence Capability: Certain functionalities of Fusion Application are made available to co-exist with Application Unlimited systems (EBS, PeopleSoft, JDE, Siebel etc). By integrating such fusion application features with existing ERP systems, customers can leverage certain fusion application features without compromising their existing investments in Application Unlimited ERP systems.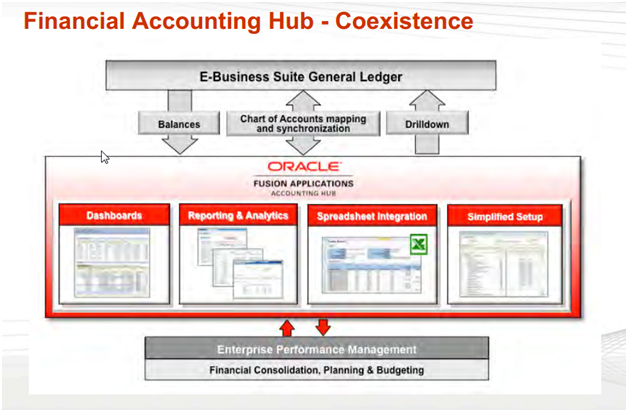 Extension ability of data model and user interface allows users to handle their business requirements without customizing the application.
Consistency throughout the Applications: Consistent design and architecture across all applications functions enhances user productivity to a great extent. Moreover, it also reduces the maintenance and enhancement costs as well.
Tight integration with desktop tools: Spreadsheet integration is another key feature in the application that minimize data entry errors processed data with Fusion. This not only minimize data entry also provide a familiar environment that is highly efficient for users.
Embedded Out-of-the-box imaging integration: Oracle Imaging and Process Management provides an integrated document management capability to support accounts payable invoice automations. This will reduce workload by eliminating paper-based processes
Best of Basic architectural concept : Fusion is equipped with key accounting flex field concept of EBS, Ledger Concept of R12 Financial architecture that is coupled with Peoplesoft tree structures and effective dates concepts. This is also armed with use of the Oracle Essbase multidimensional database to hold aggregate GL balances.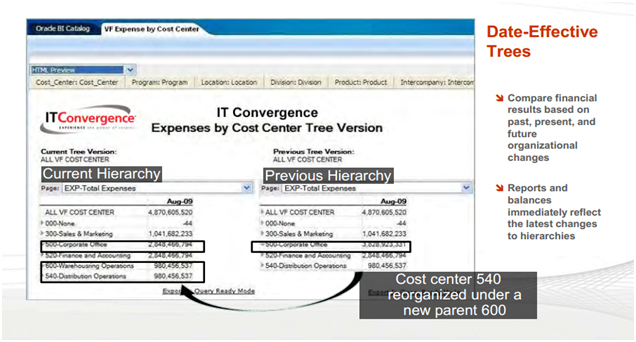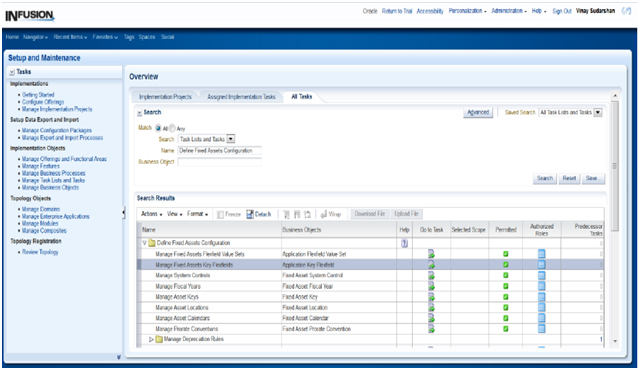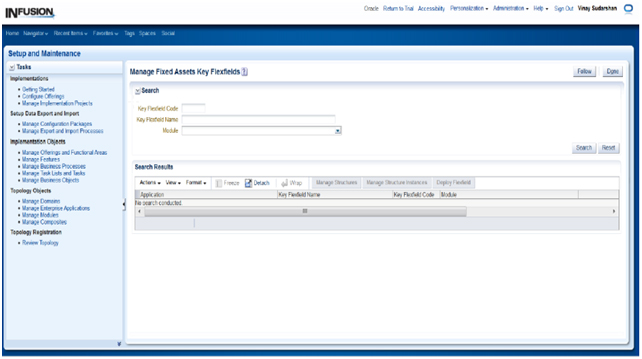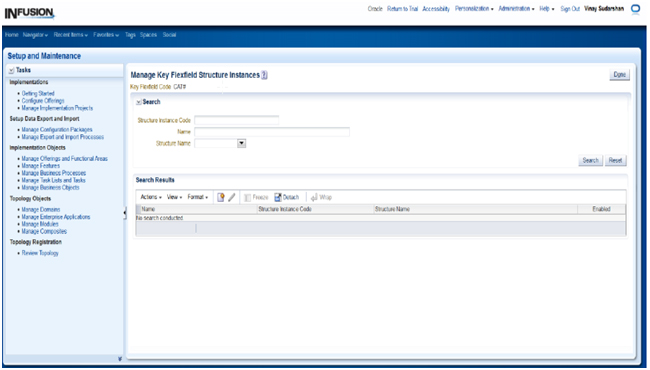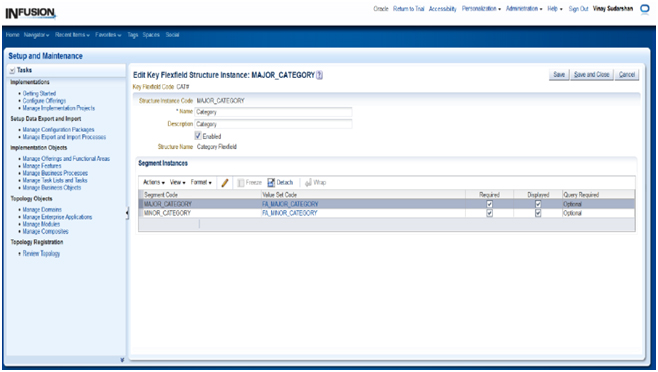 Multiple balancing segments : Users can create balance sheet and other management reporting package across multiple business dimensions.
Key benefits to EBS Financials Users:
• Graphical hierarchies (trees)
• Shared reference data (SetId)
• Centralized inter-unit setup and processing
• Rules-based engine for AP matching
• Open item reconciliation processing
• Comprehensive budgetary controls
• Multi-level, flexible cash positioning
• Travel authorizations and cash advances